So I lived in Barcelona for 3 years working on a Masters and interning. I loved living near the beach, how everyone read in the metro, and the vibrant culture of Spain and Catalunya. On Sunday afternoons my husband and I would lay on the top terrace of a local castle and read our books. I've had good memories from living there and it has definitely helped me shape into the person I am today. This list might be of interest to those who will travel there or places ex-patriots may not know about. Here are some things I found out while living there:
1. A great section of English novels in FNAC and Casa del Libre. These two are the mainstream bookstores that are found in other countries and cities, like our Barnes and Noble/Waterstones. There have popular books and some editions of classics. I regret not buying all the rubbery English Classic editions by Penguin when I was there. Apparently also in Laie there is a large English section, an independent bookstore on L'Eixample.
2. One bookstore with new books that was entirely in English I frequented was Come In. They had a great selection of editions of classics and graphic novels I couldn't find in the larger bookstores. They also had popular board games in English, bilingual books, and a great selection of language learning books.
Come In Bookshop:
C/ Balmes 129 bis (Nearest metro- Diagonal L3, L5)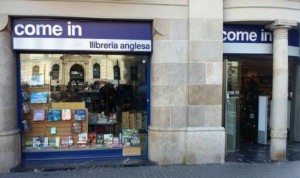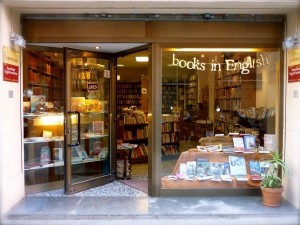 3. A bookstore I frequented even more as the secondhand and new bookstore: Hibernian Books. Each time I left I had a stack of at least 4 books with me. For super cheap. They also have some books in other languages.
Hibernian Bookshop:
C/ Montseny 17 (Nearest metro – Fontana L3)
4. I loved that tons of commuters on the public train system were reading to pass the time. I got a lot of reading done on my journeys to class and work.
5. Sant Jordi!!! This was one of my favorite holidays and my husband and I still celebrate it instead of Valentine's Day. On this day, April 23, Barcelona's main streets are ready for the Rose and Book Festival. There are tons of stalls where booksellers bring their books,all new and old. Saint George is the patron saint of Catalunya and is supposed to be the most romantic day. You can read up the legend and more traditions online. It is customary for the male partner to give the the woman a rose and for her to give a book in return. I usually get a book for my husband and one for myself as well.
<http://www.barcelonayellow.com/bcn-events-articles/104-sant-jordi-day-barcelona>
6. Libraries: Beautifully located libraries in ancient buildings of Barcelona.
+National Library of Catalonia
7. They don't charge you for overdue books. They have a point system for how many days late your book was and hen you reach a certain number you can't check anything out for 2 weeks.
8. The Shadow of the Wind by Carlos Ruiz Zafon is set in Barcelona. It's fun to go around and see what places inspired Zafon for the book. There is this guide that I read that goes location by location that is featured in the book: The Barcelona of Carlos Ruiz Zafon: a Guide by Sergi Doria. This sparked so much intrigue for me regarding old Barcelona, before the tourism.
9. Barcelona has a rich history of being a hang out for artists and writers. A lot of the cafes where writers and artists frequented are still around.
+Bauma: opened in the 1940's.
+Els Quatre Gats: originally open from 1897 to 1903, was a place of pilgrimage for artists. Picasso had his first solo exhibition there. It reopened in 1978,but it doesn't have the same bohemian charm it had before.
10. George Orwell's Homage to Catalonia. Orwell had stayed in Barcelona back-in-the-day and fought on the Republican side of the Spanish Civil War. He later wrote about his time in it. Almost all the locations referenced in the book still exist in Barcelona. This turbulent time is not taught very much in our schools in the US, unless there is a specific class on Spanish history. His experience in 1936 & 1937 may have influenced his later two famous novels, Nineteen Eighty-four and Animal Farm.
Interesting article here <http://www.telegraph.co.uk/travel/destinations/europe/spain/catalonia/barcelona/articles/George-Orwells-Barcelona/>
What are some bookish aspects you love in another city you have lived in? Foreign or local.
Top Ten Tuesday is a weekly meme hosted by the lovely ladies at The Broke and the Bookish! Each week, a new topic is put into place and bloggers share their top ten accordingly.