Hunter S. Thompson's Fear and Loathing in Las Vegas
Adapted by Troy Little
Publication Date:
November 10, 2015
Publisher:
Top Shelf Productions
Buy It:
Amazon
/
TBD
Source:
NetGalley
"In proud partnership with the Hunter S. Thompson Estate, Top Shelf Productions is pleased to announce Fear and Loathing in Las Vegas, a delightfully bonkers graphic novel by Eisner-nominated artist Troy Little adapting Thompson's seminal book of the same name. Join Thompson's alter ego Raoul Duke on the mother of all Vegas benders, as he and his attorney Dr. Gonzo cover a motorcycle race, crash a drug-enforcement convention, and rack up obscenely large room-service bills, all while dosed to the gills on a truly spectacular assortment of mind-altering substances."
My Review:
I had never read any of Thompson's work before and only watched the film version of Fear and Loathing. Troy Little did a great job of capturing the story and the form of art was perfect. I don't know how much was left out from the original story, but it read like the novel could have been in its complete form. The story itself was chaotic just as it would be about two guys drugged up on everything imaginable in Las Vegas. I believe those who loved the novel would enjoy this as a companion and recommend them to give this version a go. For those who had heard of the novel, but never actually got around to reading it may get more out of this version of the story with graphics to give life to the drugged-out segments of the novel. I think novels having a graphic novel companion is a great way to introduce people to the story and their authors and, also, provide fans something extra to enjoy.
Thank you to NetGalley, Diamond Book Distributors and Top Shelf Productions.
An example of the Little's art in the graphic novel: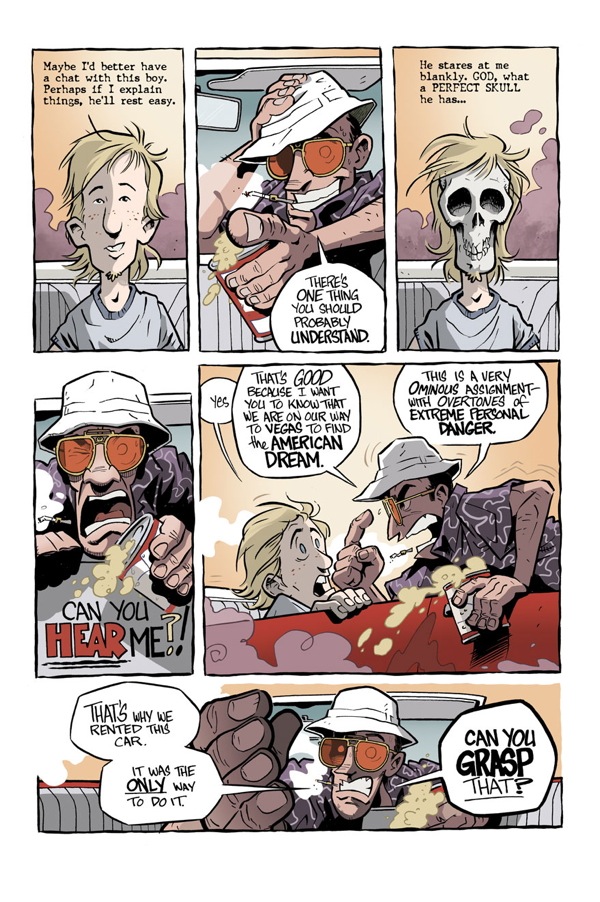 For more comics by Top Shelf here is their website: http://www.topshelfcomix.com
Troy Little is the Eisner Award-nominated writer and artist of
Angora Napkin
. His other works include
Chiaroscuro: Patchwork Book 1
,
The Powerpuff Girls
and other statements of our time.